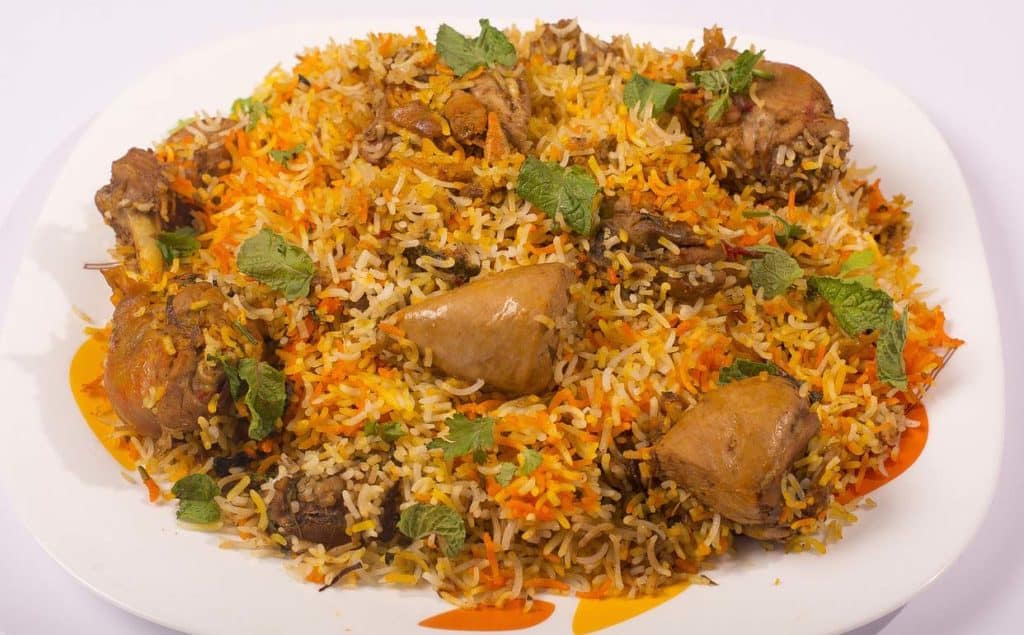 Biryani is a popular meal. It is very well known in some Asian countries. Sometimes it is known as an Indian traditional chicken biryani recipe. Especially we cook chicken Biryani in the marriage ceremony as well as a birthday party, and different occasions. We get many varieties on Biryani like Hyderabadi biryani, mutton biryani, plain pulao, and Chicken Biryani is one of them.
INGREDIENTS:
Basmati rice 1 KG
Chicken 1.5 KG
Chopped onion 1 cup
Ginger paste one teaspoon
Garlic paste one teaspoon
Red chili two spoons
Turmeric 2 spoons
Cumin powder teaspoon
Coriander powder one teaspoon
Hot spice one spoon
Cinnamon 10 slice
Cardamom 10 pieces
Bay leaves three pieces
Oil 1 cup
Butter 1/3 cup
Dry palm/Prunes 1/3 cup
Potato cube 2 cups
Liquid milk 1 cup
Saffron milk 1/2 cup
Yogurt 1/2 cup
Fragrance 2 spoons
Salt as prepared
How to Cook Traditional Chicken Biryani Recipe
1st step
Take 2-liter water in a pan, then add two spoon oil, five cardamoms, five cinnamon, 2 Basel leaves and start boiling these ingredients. Then add basmati rice cook it almost 5 to 7 minutes. Try to keep the rice half boiled. Now choked the waters.
2nd step
Take a pan put three teaspoons oil, then put potato cube on the oil and add one spoon red chili powder, one spoon turmeric powder, salt, fry the potato at least 7 minutes. Then take out in a dish.
3rd step
Now add ginger, garlic, red chili powder one spoon, turmeric powder one spoon, and salt, with the chicken and fry it for 10 minutes.
4th step
Again Add Bay leaves, cinnamon, hot spice, crushed dry chili one spoon, 1/2 cup yogurt, 1 cup chopped onion with the fried chicken on the same pan. Cook them at least 15 minutes then put it down.
5th step
Now add the half-boiled rice with chicken and make a layer, then put fried potato, Prunes/dry palm, spread butter, and saffron milk on it. Cover the pan and cook at least 25 minutes on shallow heat. After that, add two spoon fragrance and cover it for 2 minutes.
Now it is time to enjoy the traditional chicken Biryani.