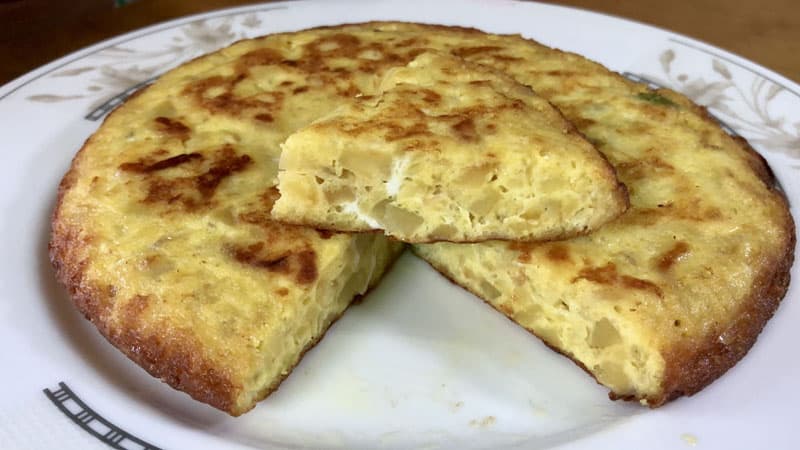 Egg lovers want to try to experiment with the egg recipe. Today I made a simple, most natural, very quick egg recipe name Spanish omelet. Very few ingredients need for Spanish food.
If you are in a hurry for your baby's school bus or about your office time, then the Spanish omelet is the most effective healthy menu.
We get Lots of carbohydrates and protein from Spanish food. Lets to know how to make Spanish omelet.
Try Best Dessert Recipe: Strawberry American Donuts
Ingredients:
Three medium-sized potato
One medium-size onion
Four eggs
Salt
Oil 3 tablespoons
Note:
In this recipe, if you use a nonstick pan, your Spanish omelet will very evenly. But you can use it as your preference.
Preparation for the Cook:
1. Chopped potatoes in very small, wash it
2. Chopped onion which style you want.
3. Bit eggs in a bowl and keep them aside.
How to Cook Spanish Omelet
1. Take a nonstick pan put two tablespoons oil warm it now put chopped potatoes cook it 3 minutes.
2. Now add chopped onion and salt as required mix them very finely.
3. Cover the pan and cook it for 5 minutes.
4. After 5 minutes, open the cover and smashed the potatoes with a spacer.
5. This smashed potatoes mix with eggs that you kept in a bowl.
6. Add 1 green chili ( optional)
7. Now put one tablespoon oil in the same pan warm it.
8. Put the mixture into the oil, spread it with spoon or spacer. Cover the pan, and cook it for 5 minutes.
9. Open the cover and toss another side for cook, then cook it again for 2 minutes.
Eventually ready Spanish omelet enjoy it. We can take it with rice and your breakfast menu.